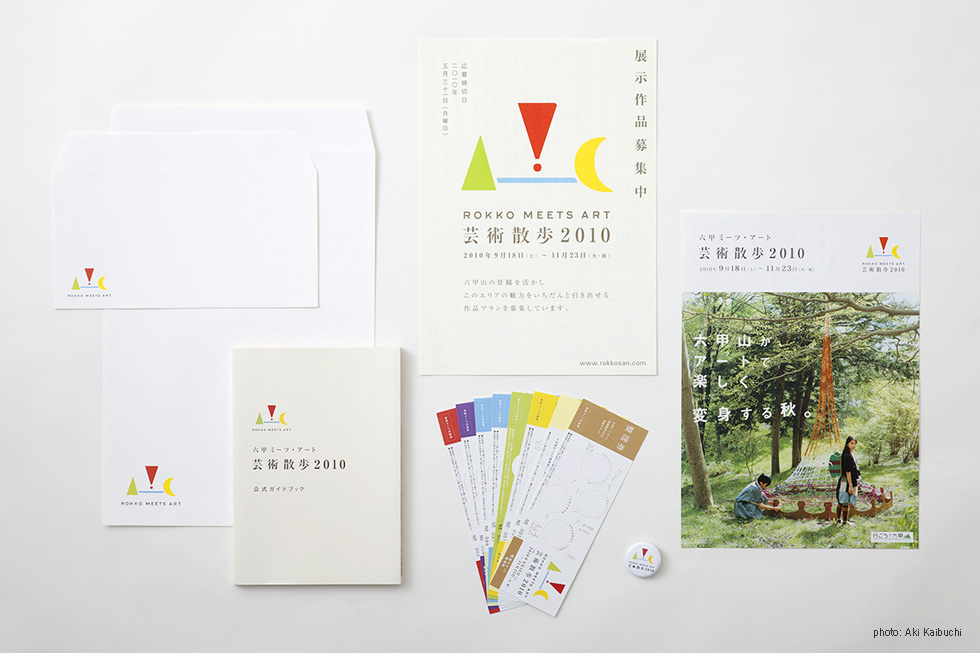 ※graf在籍時のお仕事です。
六甲ミーツ・アート 芸術散歩2010
2010
2010年9月18日から11月23日にかけて、六甲山を舞台に繰り広げられた現代アートの展覧会、六甲ミーツ・アート「芸術散歩2010」。
公募/招待あわせて40余名の作家によるアート作品を、六甲山の自然と共に、ピクニック気分で回遊しながら楽しめるこのユニークな展覧会のロゴ、ポスター、チラシからチケット、HPに至るグラフィックツール一式のアートディレクションを担当しました。
「六甲山の豊かな自然を、訪れた人たちが五感で感じながら、アート作品を楽しむ」という展覧会コンセプトを、万人に受け入れられる親しみやすいかたちで、ロゴやイメージに落とし込むことを考えました。
また、2010年7月にオープンした自然体感展望台「六甲枝垂れ」のロゴ、各種グラフィックツールのアートディレクションも担当しました。
creative direction: takashi matsui (graf)
art direction: yosuke okita
design: saburo sakata
client: 阪神総合レジャー株式会社
※Works in my former workplace graf (a design studio)
Rokko Meets Art Art-Walking 2010
2010
I participated in the contemporary art exhibition "Rokko Meets Art: Art Walking 2010" as an art director.
The exhibition was held on Rokko Mountain, from Sep 18, to Nov 23, 2010. Visitors were able to enjoy this unique exhibition of art works from about 40 artists, brought together by public selections and invitations, at the same time as enjoying the natural surroundings on Mt. Rokko.
My direction works ranged from logo design to poster design, throughout other graphic forms including flyers, tickets, and the website. I decided to use some images inspired by the concept of the exhibition, "Enjoy art works and feel the beautiful nature of Rokko, with your five sense." I developed these images into graphic designs, which would be accepted by all and meet everyone's tastes.
In addition, I managed the art direction of the logo and various graphic materials of "Rokko Shidare", a nature observation deck opened in July 2010.
creative direction: takashi matsui (graf)
art direction: yosuke okita
design: saburo sakata
client: Hanshin Sogo-leasure Co., Ltd.