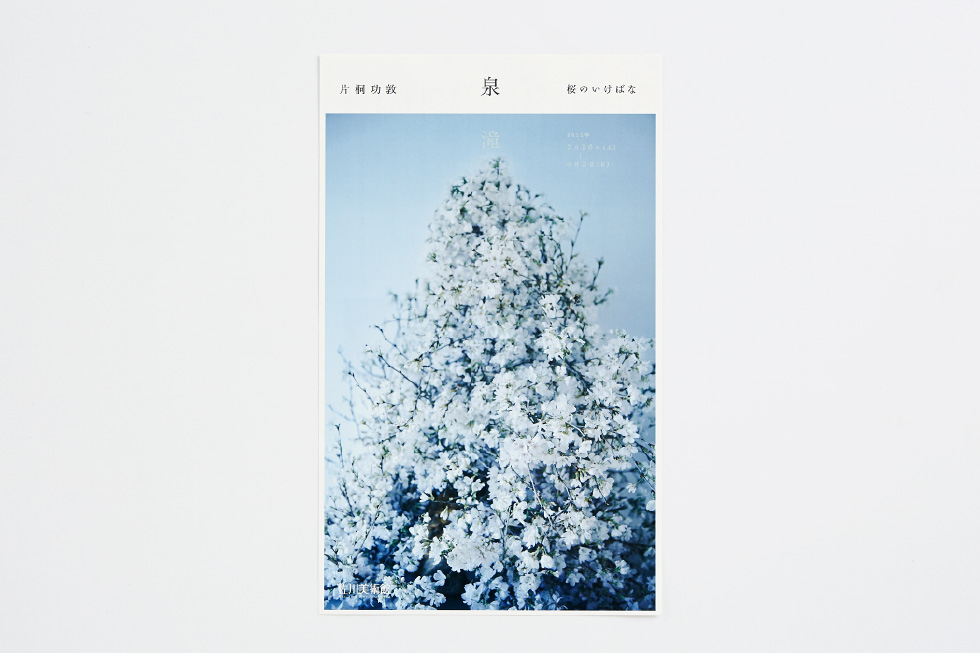 ※graf在籍時のお仕事です。
片桐功敦 「泉 / 滝」
2011
2011年3月、佐川美術館・樂吉左衛門館ロビーに巨大な桜の滝が出現した。
高さ約7メートル、約3万本の桜によるその壮大なインスタレーションは、華道家・片桐功敦による作品だ。
吹き抜けの天井から漏れる光を浴びながら鎮座するこの作品は、まるで本物の滝のように、東日本大震災で負った心の傷を洗い流し、人々の心に一時の泉を生み出したのかもしれない。
私は、この作品の告知フライヤーとポストカードのデザインを担当しました。
design: yosuke okita
photo: tadayuki minamoto
client: Atsunobu Katagiri
※Works in my former workplace graf (a design studio)
Atsunobu Katagiri "Spring / Waterfall"
2011
In March, 2011, a huge waterfall of cherry blossom, "Spring / Waterfall" appeared in the lobby of Raku Kichizaemon building at Sagawa Art Museum.
I designed the flyer and the postcard for this piece.
Composed of approximately 30,000 cherry blossom branches and about 7 meters in height, this magnificent installation was made by the flower arrangement artist, Atsunobu Katagiri.
Bathing in the sun light filtering through from the opening in the ceiling of the colonnade, this still installation might have washed away people's wounded heart, caused by the disaster of the 3.11 East Japan great earthquake, just like a real waterfall.
Moreover, it might have brought a temporary spring in their heart.
design: yosuke okita
photo: tadayuki minamoto
client: Atsunobu Katagiri