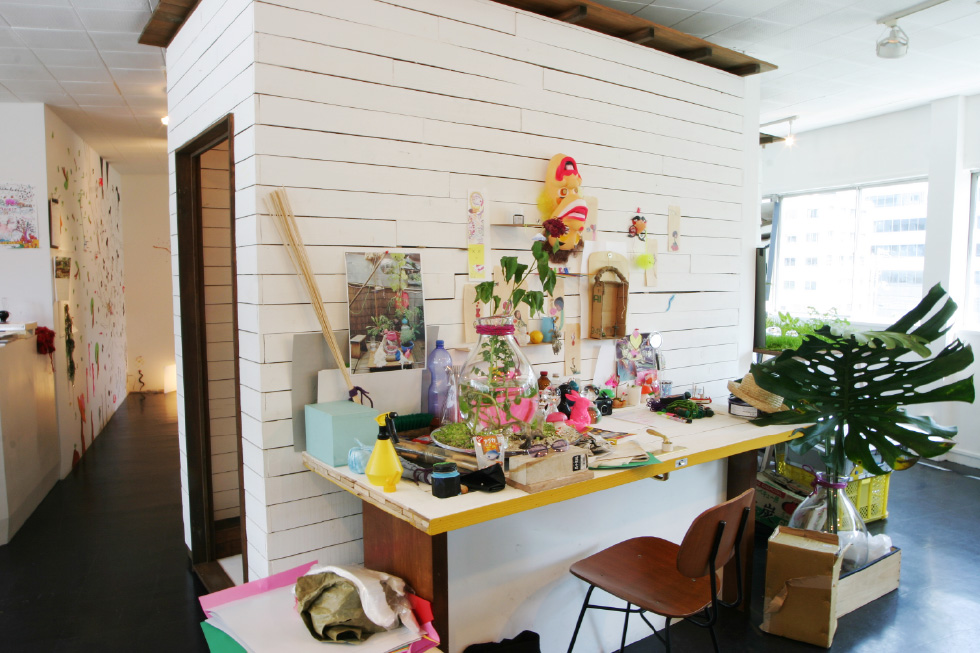 graf在籍時のお仕事です。
生意気展 "Kinky Muff Land"
2007
2007年にgraf media gmにて行われた生意気展「Kinky Muff Land」の企画・キュレーションを行いました。
生意気は、イギリス人のマイケル・フランクと、ニュージーランド人のディヴィッド・デュバル・スミスからなるユニットで、サイケで自由奔放な作品を作る彼らは、当時の私にとってアイドル的な存在でした。
しかし、展覧会の打診をすると「今は植物にしか興味がない」という返事が。かくして、生意気にとっての新たな試みに私も便乗するかたちで、プロジェクトがスタートしました。
室内の展示にあまり興味のない彼らは、grafビル5F外のコンクリートの喫煙スペースを、パーマカルチャーの考え方を使った庭にすることを希望し、一緒に作りました。プランをやりとりし、一緒に旅をし、笑い、飲み、たくさんの人を巻き込みながら作っていくそのプロセスは、それ自体が彼らの哲学であり作品であったように思います。植物の可能性とともに、時間や労働に人生を支配されがちな日本人に対しての示唆も多く含んだプロジェクトでした。
*graf media gmは、grafのアート&カルチャー部門として存在し、たくさんの独自性の高い企画を行っていましたが、現在はgrafから分離・独立し、「gm projects」として新たに活動を行っています。私はgraf media gmに、2005年から2009年まで在籍しました。
※Works in my former workplace graf (a design studio)
Namaiki Exhibition "Kinky Muff Land"
2007
I was in charge of the curation and planning of "Namaiki" 's exhibition "Kinky Muff Land" performed at graf media gm in 2007.
"Namaiki" is an artist unit which I admired very much in those days. It is formed of 2 members, Michael Frank from the UK and David Duval Smith from NZ and the create free-minded psychedelic art pieces.
When we first approached them to work together with us for the exhibition, they answered that they are only interested in plants. Therefore the project started as a new attempt for them and we also jumped on their new challenge.
As they were less interested in exhibiting inside the building, they requested to change the concrete smoking area on the 5F of the graf building into a garden with a "perma culture".
The creation process involved many people, planning, traveling, laughing and drinking together. It would not be too much to say that the process itself is the embodiment of their philosophy.
With the potential nature possess, this exhibition carried a lot of suggestions about the tendency of Japanese people's lives to be heavily influenced by the time and effort spent working.
※ "graf media gm" used be a section of art & culture of graf company. Though they performed many highly originality projects in graf, "graf media gm" separated from graf and became independent as "gm projects". I was the member of "graf media gm" from 2005 through 2009.