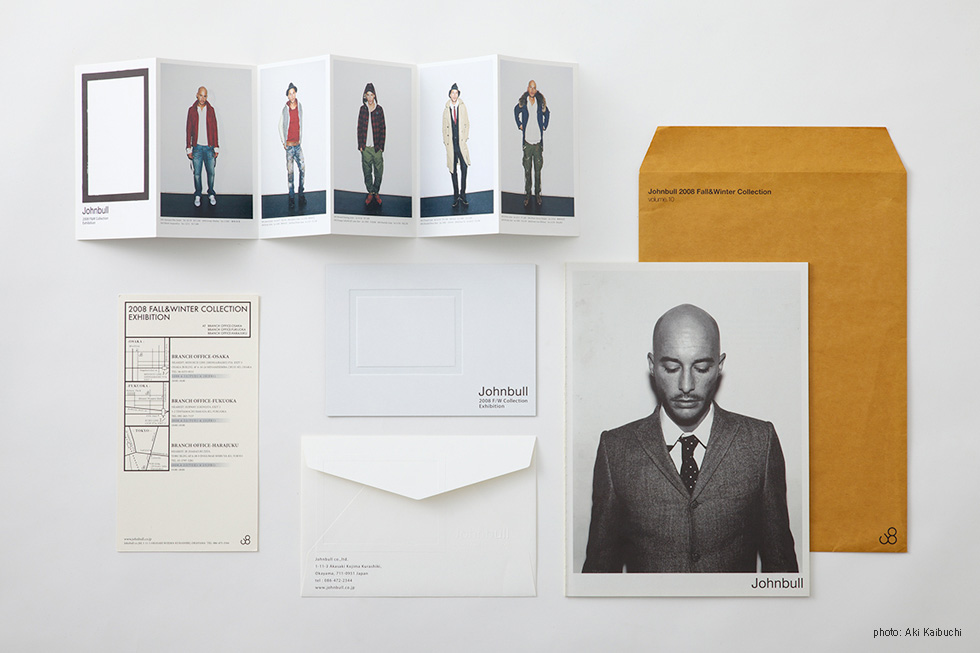 ※graf在籍時のお仕事です。
Johnbull
2006 - 2008
2006年から2008年にかけて、岡山に本社を置くファッションブランド「Johnbull」のシーズンカタログのアートディレクションを担当しました。特に2007年秋冬シーズンからは、カタログだけでなく、展示会、DM、雑誌純広など、トータル的なアートディレクションの役割を担わせてもらいました。
毎シーズン提示される洋服のテーマからそのシーズンのトータルのビジュアルイメージを導き出し、それを平面グラフィック、モデル撮影を含めたカタログ制作、展示会の空間デザインへと落とし込んでいく作業は、とても大きな経験となりました。グラフィックのみにとらわれたくない今のスタンスの礎になったような気がします。
art direction: yosuke okita
design: michio yokoyama (graf)
client: 株式会社ジョンブル
※Works in my former workplace graf (a design studio)
Johnbull
2006 - 2008
From 2006 to 2008, I art directed the seasonal catalogues of "Johnbull", a fashion brand based in Okayama, Japan. From the 2007 Autumn/Winter collection, I started working not only on the catalogues, but also taking part in total art direction of the brand, such as the exhibition, DM, magazines and so on.
I derived my inspiration from the theme of the seasonal show given by the designer, and created the total visual image. I blended and applied the visual image into 2D graphics, and produced the catalogues including photo shoots, and the design of the exhibition space. These series of experiences have given me a much broader view, and made me realize I shouldn't be confined just to the field of  graphic design. I think these experiences have became a foundation stance of my careers.
art direction: yosuke okita
design: michio yokoyama (graf)
client: Johnbull co.,ltd.