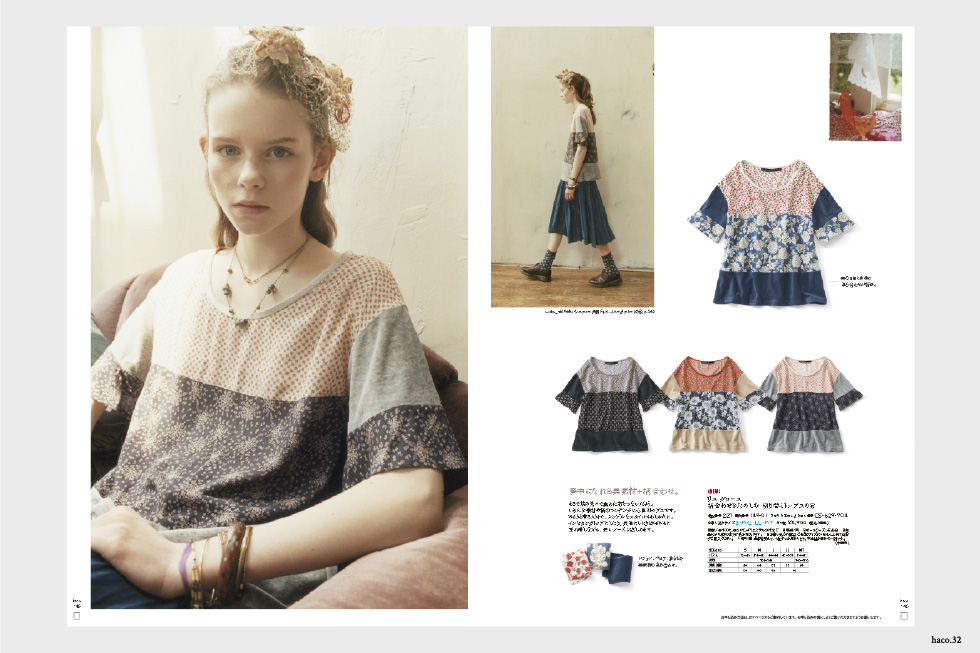 ※graf在籍時のお仕事です。
lis khros
2010 - 2013
神戸に本社を置くダイレクトマーケティング会社「フェリシモ」が発行する、おしゃれな通販カタログ「haco.」。その中の「リスクロース」というブランドのアートディレクションを、2010年春号(haco.23)より2013年春号(haco.34)まで担当しました。
時代、民族、文化の枠をするりと飛び越えて自由に生きる女性をイメージしたこのブランドの壮大な世界観を、毎シーズン様々な職種のプロフェッショナルと一緒に作り上げていく作業は、さながら映画の制作現場のようでした。シーズンのテーマに合わせて、grafの木工職人やコーディネーターと一緒に作った大がかりなセットや装飾も、特徴のひとつです。
「ファッション」という、理屈よりも「空気感」や「憧れ」といった感性的な部分を重んじるジャンルの難しさを感じながらも、回を重ねるごとにお互いの息が合ってくるチームプレーの充実が、醍醐味でした。
art direction: yosuke okita
client: 株式会社フェリシモ
※Works in my former workplace graf (a design studio)
lis khros
2010 - 2013
"haco." is a fashionable mail-order catalog published by a Kobe-based direct marketing company FELISSIMO CORPORATION. I was in charge of the art direction of a fashion brand "lis khros" in "haco." , from the spring issue, 2010  (haco.23) to the spring issue, 2013 (haco.34).
As its brand image, "lis khros" has an unconventional woman who lives freely transcending every generation and cultures. To express its exceptional view of world, I worked together with many professional people from different backgrounds each season. This working process was just like creating a film,  and I felt like I was working in film production. One of the characteristics of this brand image I created was the use of large-scale sets and interiors built by a woodwork craftsman and a coordinator from graf, matching theme proposed each season.
Fashion is a field which tends to focus more on the sensitive and abstract feelings such as "the feeling of air" or "admiration", rather than logical ways of thinking. Therefore I felt this was a challenging project as a designer, however I relished the challenge and loved the great team work, which kept developing every issue we worked on.
art direction: yosuke okita
client: felissimo corporation